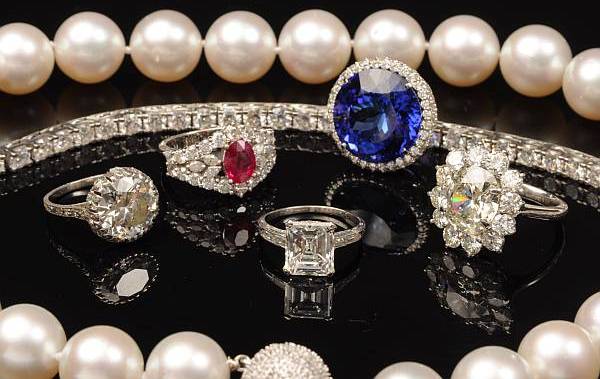 Where is the best place to sell jewelry in Los Angeles? The honest answer is that there is no one "best place" or "best way" to sell your jewelry. Every client is unique and every situation is different. The best place to sell jewelry isn't simply a matter of who offers the most money — because the difference in competing offers could be negligible. Choosing a jewelry buyer is also about who makes the sales process quick, convenient, and secure.
At Los Angeles Jewelry Buyer we cover each one of those bases, so that you can return home feeling confident you sold your jewelry the right way. We have helped hundreds of people throughout Los Angeles County sell their estate jewelry collections, their diamond engagement rings, their luxury timepieces, and more. Clients say that they chose us as the best place to sell jewelry because:

1. TRUST: They knew they would receive a fair cash offer.
2. CONVENIENCE: They could sell their jewelry close to their home or office.
3. UNDERSTANDING: They understood exactly how we arrived at our appraisal value.
To get the process started now, give us a call or click the Start Selling button below to tell us about your item.
Start Selling
Los Angeles Jewelry Buyer – View Our Recent Buys
To learn more about LAJB and the factors which have made us one of the best places to sell jewelry in Los Angeles, please continue reading.
The Trust Factor
Selling Jewelry with Confidence
Los Angeles Jewelry Buyer is owned and operated by 2nd generation estate jeweler and jewelry designer Fletcher Blackburn. At Los Angeles Jewelry Buyer, we leverage Blackburn's expertise and financial resources to make you the highest possible cash offer for your items — often matching or exceeding the amount you would have received by auctioning your jewelry. We are consistently able to outbid competing offers by keeping our operating expenses at a minimum, while continually expanding our exclusive global resale network.
Read what other people have to say about selling their estate jewelry and watches to us by visiting: Los Angeles Jewelry Buyer Reviews.
Start Selling
The Convenience Factor
Selling Jewelry Hassle Free
Time is money. For many people, the best place to sell jewelry in Los Angeles is where you can get a fair cash offer in the shortest amount of time. While Los Angeles Jewelry Buyer operates its main buying office in Redondo Beach, we go to meet clients throughout Los Angeles County via our network of executive offices. On average you won't have to drive more than 30 minutes to meet with us at a convenient and secure office location.
During our meeting, we will appraise your jewelry and make a final, best cash offer. On accepting our offer, we will either write you a cashier's check or have the payment wired into your bank account. If for any reason, you prefer not to accept our cash offer, we'll shake hands, no questions asked. We are a family run business, and your satisfaction, comfort, and security are our priority.
So, all things considered, how long then does it take to sell jewelry to Los Angeles Jewelry Buyer? From first point of contact to cash payment in hand, the average time is 2-3 days. It all depends on your availability and when we can arrange an appointment.
Start Selling
The Clarity Factor
Selling Jewelry with Knowledge
The pricing of fine jewelry (both new and old) can be confusing to many people when selling jewelry in Los Angeles. It's important to understand the nature of original retail pricing (which often has 300+ % markups) vs. estate jewelry appraisals. One also has to take into consideration current market demand and the added brand value associated with luxury jewelers such as Tiffany & Co., Cartier, and Harry Winston. Things get even more complicated when trying to assess the value of antique jewelry or custom-made pieces.
You can count on Los Angeles Jewelry Buyer to explain the valuation process in clear terms that will make you confident of your understanding. We have 50+ combined years of expertise in buying, selling, and appraising estate jewelry. As an accomplished diamond jewelry designer in his own right, our owner Fletcher Blackburn is an expert in assessing the added brand value of designer jewelry (click to read more).
All will be explained to you, during our jewelry appraisal meeting. So that you have a clear understanding of how we arrived at our final cash offer.
Get started now by telling us about the jewelry you wish to sell in Los Angeles County.

Articles on How to Sell Jewelry in Los Angeles
Would you like more information about how to sell your jewelry in Los Angeles? Please check the articles below to become a smart seller of your estate jewelry, diamond rings, and luxury watches.
In this article, we discuss the variety of ways in which you can auction jewelry in Los Angeles, including online jewelry auctions, bricks and mortar auctions, and e-Bay. Learn the pros and cons of auctioning your jewelry vs. selling jewelry directly to a dedicated Los Angeles jewelry buyer.
Learn about the two types of jewelry appraisals (replacement vs. market), and how to get the right appraisal for the jewelry you are selling in Los Angeles. Gain a better understanding on how to evaluate the qualifications of a Los Angeles jewelry appraisal.
Get answers to common questions that our clients have had when selling us their diamond engagement ring, including, "How do I get a better price for my engagement ring?", "How can I learn about the diamond in my engagement ring?", and more.
Start Selling
What Do We Buy?
Sell Engagement Rings Sell Antique Jewelry Sell Diamond Bracelets
Sell Bridal Jewelry Sell Vintage Tiffany Jewelry Sell Fancy Diamonds
Sell Ruby Earrings Sell Diamond Necklaces Sell Emerald Rings
Sell Sapphire Pendants Sell Rolex Watches Sell Wedding Rings
& MORE
Estate Jewelry Buyers of Los Angeles