If you want to sell a diamond ring in Los Angeles, your options include:
1) A Jewelry Buyer
2) A Fine Jeweler
3) An Auction
4) A Pawn Shop
Which business is the right one for you depends on a variety of factors. So, let's look at each type of business individually and break down the things to consider when selling a diamond ring in Los Angeles.
Selling a Diamond Ring to a Jewelry Buyer
A jewelry buyer is an estate buyer who deals exclusively in buying fine jewelry from the public. This includes items such as diamond rings, bracelets, and earrings. It can also include luxury timepieces. Los Angeles Jewelry Buyer is an example of this type of business.
There are two kinds of jewelry buyers: local and national. A local buyer will buy your diamond ring at their place of business. A national buyer will ask you to ship them your diamond ring.
What are the pros and cons? When a local buyer purchases your diamond ring, it never leaves your sight. You can meet personally with the buyer, and complete the transaction in-person. However, a local buyer often cannot match the higher cash offer of a national buyer, who has a larger network of dealers with whom they work.
At Los Angeles Jewelry Buyer, we occupy a unique position as both a local and national buyer. We buy diamond rings from clients throughout Los Angeles County via our network of executive offices, as well as from our main buying office in Redondo Beach.
Our process begins with a preliminary valuation of your diamond ring, and an estimate of the cash offer you will receive. To get started, contact us now and tell us about your item.
Start Selling
We specialize in purchasing large diamond rings (3+ carat) and diamond jewelry from leading luxury brands, including Tiffany & Co., Harry Winston, Graff, Cartier, and Van Cleef & Arpels.
Los Angeles Diamond Buyers: View Our Recent Purchases
[Not a valid template]

Fine Jewelers Who Buy Back Diamond Rings
Keep in mind that fine jewelers are in the primary business of selling new diamond jewelry, rather than buying pre-owned rings. However, many Los Angeles jewelers are willing to exchange your old diamond ring as credit against the purchase of a new item of diamond jewelry. So, if you are looking to upgrade your old diamond ring to newer one with a larger stone, then your local fine jeweler is an option worth looking into.
Fine jewelers who are most knowledgeable about the value of old diamond rings are estate jewelers. These are your best option for selling a diamond ring to a jewelry store. You can find Los Angeles estate jewelers who operate jewelry stores that exclusively sell vintage and antique jewelry, as well as those which sell new diamond jewelry, along with estate items.
The difference between these jewelers and Los Angeles Jewelry Buyer is that we are estate jewelers who are dedicated buyers, and do not operate jewelry store. As a family-run business, we have 50+ years of expertise in important diamond jewelry. We encourage any client who is unsure about selling us their item to obtain a cash offer from other Los Angeles estate jewelers. And then see how much more we are able to pay for your diamond ring.
Start Selling
Selling Your Diamond Ring at Auction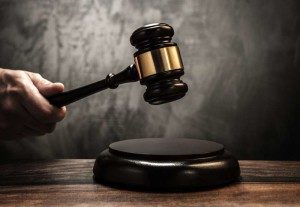 There are quite a number of options to sell your diamond ring at auction. In the past, auction opportunities were primarily for people selling extraordinary diamond jewelry at Sotheby's and Christie's. But today there are online auctions, ranging from e-Bay to auction websites dedicated to selling diamond rings.
The main two issues involved in all instances are: 1) Uncertainty and 2) Time. While auctioning your diamond ring may seem like the best way to get the highest cash offer, that is often not the case. The bidders at online jewelry auctions are mostly dedicated jewelry buyers (like Los Angeles Jewelry Buyer) and not members of the public. So, you are adding an extra and unnecessary "middle-man" to your transaction, whose commission is often as much as 35%. All of which means that much less money in your pocket.
In the case of e-Bay, there is a lot of time involved. Setting up a compelling auction page with proper photos is very time-consuming. You then could be waiting indefinitely for a cash offer that you find acceptable. A big reason for this is that most buyers of diamond jewelry are not willing to purchase an expensive diamond ring from a stranger, and will only buy from established businesses, where there is an extra level of security.
If you do decide to auction your diamond ring online, we would strongly encourage you to get a preliminary valuation from Los Angeles Jewelry Buyer first. So that when you do auction your diamond ring, you will have a better understanding of its true resale value.
Start Selling
Should I Sell My Diamond Ring to a Pawn Shop?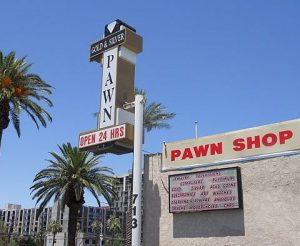 Pawn shops used to have a bad reputation, but that has been rehabilitated by popular TV shows like Pawn Stars. Many of today's Los Angeles pawn shops bear no resemblance to the seedy depictions once seen in Hollywood movies (though some still exist). There are many reputable pawn shops throughout Los Angeles County where you can sell a diamond ring or use it for a collateral loan.
Pawn shops are useful for people who are selling a diamond ring with a stone under 1 carat. But less so for selling large carat diamond rings or luxury designer jewelry. The reason is that pawn shops have a business model focused more on loans, and they lack the expansive resale network of a dedicated jewelry buyer.
When deciding on a Los Angeles pawn shop, be sure to choose one that has a GIA trained professional on staff. This will better ensure an accurate evaluation of the diamond in your ring. However, please note that GIA training does not mean the staff are experts at evaluating the resale value of your diamond ring, only that they are trained to assess the quality of your diamond.
Expertise in evaluating market value requires years of estate jewelry experience and a deep knowledge the current resale diamond market, both nationally and internationally.
For additional information about GIA and other diamond certification labs, please read the section below. To get started selling your diamond ring now, contact Los Angeles Jewelry Buyer.
Start Selling
Learn How to Read a GIA Diamond Report
Can I Sell My Diamond Ring Without a Certificate?
Yes, you can sell your diamond ring without a certificate. While it is often easier to sell a ring with a "certified" diamond, any highly-trained buyer such as Los Angeles Jewelry Buyer will be able to evaluate the quality and value of your diamond without a diamond grading report (i.e. certificate).
The reason a diamond grading report makes it easier to sell a diamond ring is because it reduces the subjectivity involved when assessing a diamond's quality. However, not all diamond grading labs are created equal. There are only a handful of respected diamond grading labs whose certificates are widely accepted by Los Angeles diamond buyers. These are as follows:
GIA

The Gemological Institute of America (GIA) is by far the most respected of all diamond grading labs. If you are selling a diamond ring with a GIA certified diamond, a Los Angeles diamond buyer would rarely (if ever) question GIA's evaluation of your diamond.

AGS

The American Gem Society (AGS) is also a widely respected diamond lab. The most common diamond certificate they issue is called a "Diamond Quality Document". The main difference between an AGS and GIA report is that AGS uses a unique 0-10 grading scale.
HRD

The diamond grading reports issued by The Diamond High Council (HRD) in Antwerp are more popular in Europe than in the United States. Therefore, it's unlikely that your diamond ring will have come with an HRD diamond report. However, they are a respected lab with strict standards of evaluation, whose reports are viewed as accurate.

IGI

Diamond reports from the International Gemological Institute (IGI) are also less common in the United States. Their diamond quality standards are also a little looser. So, if you are selling a ring with an IGI certified diamond, a GIA trained professional may grade the diamond slightly lower.
Regardless if your diamond ring is accompanied by a certificate, Los Angeles Jewelry Buyer is able to evaluate its proper value on the resale market and make you a cash offer today. Simply tell us about the diamond ring you wish to sell.
Start Selling
Can I Sell a Ring with a Treated Diamond?
You can sell a diamond ring set with a treated diamond. Depending on several factors such as type of treatment, level of treatment, how noticeable to the naked eye it is that the diamond has been treated, etc., the price difference can range from 50% lower to 90% lower value from its equal carat size, color, clarity, and cut untreated counterpart. Also note that diamond grading standards forbid the certificate of treated diamonds — except in the case of laser drilling and HPHT, which must be noted on the diamond grading report.
If you take your ring to a Los Angeles diamond buyer, and their appraiser mentions any of the following treatments, you will know why the value of your diamond has been reduced accordingly.
Fracture Filling: Resin has been injected into tiny fissures within the diamond to enhance its clarity.
Surface Coating: A thin layer of colored material has been applied to the diamond to either enhance its color or hide its original color.
While the next two treatments are accepted by GIA, they significantly reduce the value of your diamond.
Laser Drilling: A laser beam is used to drill a hole into a diamond to reach an inclusion (dark spot). Then acid is used to reduce the color of the inclusion. This treatment enhances the clarity of the diamond.
HPHP Treatment: High pressure and high heat is applied to the diamond to either "decolorize" the stone, or to change its original color to a different color. This includes colored diamonds (usually brown) that have been heated to turn yellow, blues, or other colors. These fancy diamonds have value, but that value is usually under $100 per carat for melee sizes, to $500 per carat for 1 to 2 carat sizes, etc.
We might also mention lab grown diamonds, which are making a big entry into the market these days. These are worth about a third to half of what their natural counterparts are.
With all this in mind, the most valuable diamonds are "natural diamonds" which have not been treated in any manner. Large natural diamond rings command the highest prices and what Los Angeles diamond buyers are most interested in purchasing from sellers.
Start Selling
Do You Buy Fancy Diamond Rings?
Yes, we buy all types of diamond rings set with high quality diamonds, as well as diamond necklaces and earrings. While the majority of diamond jewelry is set with clear stones that show off flashes of fire and brilliance, there are certain types of colored "fancy" diamonds which are highly valuable. The most expensive of these rings include:
Blue Diamond Rings: Only about 1 in 200,000 diamonds exhibit a bluish highlight, and the most valuable variety are the stones which show the purest blue hue.
Pink Diamond Rings: The most valuable colored diamonds in the "pink" category are the ones with the deepest reds—vivid red stones being the most valuable all diamonds.
Orange Diamond Rings: Diamond buyers look for a very intense "pure" orange in this category. Orange diamonds that do not have a pure hue are much less valuable.
Canary Diamond Rings: Yellow diamonds that command the highest prices are what are referred to as canary yellow. Like with the color orange, it is an intense and pure hue.
There are other types of colored diamonds used in contemporary diamond rings and fine jewelry. For example, cognac diamonds which show a brownish-orange color have been growing in popularity in recent years. However, any of these diamonds which exhibit a mixed color are much less valuable that fancy diamonds that exhibit a vivid, pure hue.
The best way to get an understanding about the value of your fancy diamond ring and how much you can sell it for is to contact our Los Angeles jewelry appraisers today. We'll be able to provide you with a free preliminary valuation of your ring. Then, if you would like to proceed to the next step, we can arrange an appointment for an in-personal appraisal of your diamond and immediate cash offer.
Would you like more information about us? Click on the following link to learn more reasons why we are the best place to sell diamonds in Los Angeles: The Best Place to Sell Jewelry.
Sell Diamonds in Los Angeles
Royal Asscher Diamonds Leo Diamonds Tycoon Diamonds
Lily Diamonds Hearts on Fire Diamonds Crisscut Diamonds
Victorian Diamonds Ashoka Diamonds Kotlar Cushion Diamonds
Los Angeles Jewelry Buyer purchases previously-owned diamond rings that were originally bought at Los Angeles County's best fine jewelers, including Accents Jewelry Design, Ben-Dannie Jewelry, Beverly Hills Jewelers, Bridal Rings Company, Capri Jewelry Inc., Farah Jewelry, Global Rings Jewelry, Gold Empire Jewelry, Gregory Mikaelian and Sons, Inc., Icing On The Ring, Inta Gems & Diamonds, Jean Pierre Jewelers, Karkour Fine Jewelry Inc., King of Jewelry, Los Angeles Diamond Factory, Princess Bride Diamonds, Ricardo Basta Fine Jewelry, Rings4Love, Roxbury Jewelry, Sarah Leonard Fine Jewelers, Wedding Rings Depot, Westwood Jewelers, and Yolk.
Diamond Buyers LA