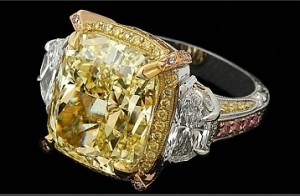 Are you ready to sell a diamond ring? Los Angeles Jewelry Buyer is here to help you sell that engagement ring confidently for a fair cash offer. Serving clients throughout Los Angeles County, we leverage decades of expertise in large diamonds and estate jewelry to accurately appraise the market value of your diamond ring.
In addition to buying engagement rings, our estate jewelry buyers also buy diamond wedding bands, earrings, and all types of bridal jewelry. We've built our five-star reputation by getting customers like you the best possible cash return on previously-owned diamond rings, fine jewelry, and luxury timepieces.
Selling a diamond ring to Los Angeles Jewelry Buyer is fast, secure, and easy. It all starts with a free verbal appraisal of your diamond engagement ring, followed by an immediate cash offer. No hard sales tactics. Just honest and fair cash offer on your engagement ring, wedding band, and other bridal jewelry.

View a Sample of Our Recent Diamond Ring Buys
[Not a valid template]

Commonly Asked Questions From Clients
How do I contact you for an appointment?
There are four ways.
1) You can call our direct number at 310-499-4535 and speak to a team member.
2) You can request an appointment by text at

657-234-2053

.
3) You can fill out our contact form by clicking the button:
Sell My Diamond Ring
Once I've contacted you, what happens next?
We'll usually ask a few questions about your diamond ring and request a couple of pictures. We'll also ask for a copy of any documentation such as a certificate or an appraisal you have for your diamond (it's ok if you don't have either).
The reason for this is to best consult you on the value and options for selling your diamond ring before you come into our office. This is a valuable free service we offer our clients. You can get a sense of what price to expect from the comfort of your home and at no cost to you. Think of us as your personal diamond consultant.
After a brief conversation, you then can decide if you want to make an appointment for an in-person evaluation.
Do you have an office in Los Angeles where I can bring my diamond ring?
Yes, our main office is at 2512 Artesia Blvd #300E, Redondo Beach, CA 90278. We also have several satellite office locations throughout Los Angeles County: Beverly Hills, Encino, Pasadena, Sherman Oaks, Ontario, Riverside, Downtown LA and Santa Monica among others.
If it is difficult for you to make it to our main office, please inquire about meeting at one of our executive satellite office locations.
Call For a Cash Quote
Text for a Cash Quote
What is the process to sell my diamond ring once I've arrived at your office?
We will inspect the 4 Cs: cut, clarity, color, and carat. Under 10 x magnification we inspect the diamond clarity (imperfections inside the diamond) and cut. Then we place the diamond on a white paper next to our color comparison stones to determine the color, which can range from D to Z. Lastly, we check the weight of the stone.
If you visit us to sell a diamond ring or a loose diamond, the process is pretty much the same, except when you sell a loose diamond we will weigh it on a diamond scale rather than calculate the weight with a hand leverage gauge. All this is done right in front of you.
How long does it take to sell my diamond ring to you?
Once in our office it usually takes about 30 to 45 minutes to sell your diamond ring.
How do you pay?
We pay in full at the appointment by business check, bank cashier's check, or wire transfer.
What are your buying hours?
Monday to Friday 11 to 5.
Call For a Cash Quote
Get Quote via Email
What is the difference between a retail appraisal and a dealer offer for my diamond ring?
A retail appraisal (also known as retail replacement value) describes the details of your diamond ring and what it would sell for in a jewelry store. The purpose of a retail appraisal is usually for insuring your diamond ring. Insurance companies will insure your diamond ring based on the retail replacement value in the event of theft or loss. This has little to do with what a Los Angeles jewelry buyer's offer would be. A jewelry buyer's offer is what someone in the industry would pay for your diamond ring so they could turn around and sell it for a profit.
Is a diamond certificate of any use to you?
Yes. A GIA (Gemological Institute of America) Diamond Grading Report is the gold standard of certificates. This is what most dealers use whether they are in Beverly Hills or Brussels. If you have a GIA Diamond Grading Report, we can give you a very close estimate over the phone, by text or by email.
Other, less known certificates can be useful for specific information such as carat weight, millimeter width and depth, but we would need to see the diamond to give an accurate price if it's not GIA.
Is a diamond appraisal of any use to you?
With most diamond appraisals there is information that can be used to help us understand the specifics of your diamond but the information has limited usefulness. The appraisal price will not reflect what the diamond ring would sell for to a jewelry buyer in the second hand market. We would need to see the diamond in order to give an accurate price when you only have an appraisal.
Learn more about appraisals in our article: Los Angeles Diamond Appraisals.
Call For a Cash Quote
Text for a Cash Quote
Would a jewelry store pay more because they turn around and sell it directly to a customer?
Most jewelry stores don't buy from the public because it's an added job that takes up valuable time that could be spent working on making a sale.
Secondly, they don't want to be put in a position where they offer you a small fraction of what they're selling their diamond jewelry for and thus showing their profit margins. Selling back to a retailer works in other industries where prices are more standardized and published like gold bars or automobiles. But not with jewelry stores (and especially engagement rings), where there's a touch of romance and emotion involved in the customer experience.
It doesn't make sense for jewelry stores to show a break-down of their price structure for customers because they don't want you to know how much they mark up their diamonds. An exception could be a trade-in scenario, where a jewelry store may work with their customers to trade up for another purchase.
Thirdly, and perhaps most importantly, jewelry stores have strong relationships with their suppliers who provide them substantial credit terms, sometimes as much as 180 days or more. In some cases, jewelry stores will have nearly their entire diamond inventory consigned to them from diamond suppliers and only have to pay for those diamonds when they sell. With highly favorable supplier conditions, it isn't practical for jewelry stores to spend financial resources and time buying diamonds from private individuals, aka "the public".
Some large jewelry stores have dedicated a department in their store to buy diamonds from the public. However, these jewelry stores will want to pay you substantially less than what they would pay their diamond supplier for the same diamond.
Sell My Diamond Ring
Text for Cash Quote
Can I get more money by selling my diamond ring via an auction?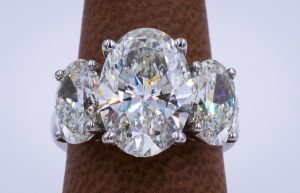 Rarely. Auction houses take about 30% to 50% in commissions and buyer premiums. Additionally, there may be costs for photography. In the diamond industry, that's a very high selling fee. While that model may work for sellers offering paintings or antique furniture where margins are more substantial, diamonds have fixed material and manufacturing costs, so 30 % to 50% is a sizable bite off the bottom line. To keep things in perspective, the large online jewelry stores like Blue Nile only work on around a 20% margin.
If you have an incredibly rare diamond, such as a 5-carat vivid pink flawless, then an auction could be a good alternative because you might attract international gem collectors and a buyer frenzy that would compensate for the 30% added cost. However, for 99.99% of the diamonds in the market, it doesn't pay to send them to auction.
We have dedicated an entire section to this topic. If you want to learn more about selling diamonds through auction please read here: Should I Auction My Diamond Ring?
What factors determine how much I will lose when I sell my ring?
There are several factors that determine how much you can sell a diamond ring for compared to what you paid. Where you purchased it; the year it was purchased; and whether you paid cash or financed it are three important factors.
Where the Diamond Ring was Purchased
Purchasing your diamond from a large jewelry store chain will often bring you the biggest loss when you sell your diamond ring. The reason is big companies have large management overheads, expensive mall rent, and strong shareholder demands for profit margins and growth. They are beholden to shareholders to capture every dollar from each sale. This is great for shareholders, but not so great for consumers if they ever decide to sell their diamond ring.
The second largest loss would come from reselling an engagement ring made by a heavily advertised designer brand. With the exception of super brands Tiffany, Cartier, Harry Winston, or Graff — whose name and strong brand pedigree will still carry some added value in the second hand market — most designer brands will sell at a small fraction of the retail price because their markups are higher than generic or local jewelry store brands. Most designer brands don't have a strong enough demand in the second-hand market to recover very much of their high retail price.
The Year the Diamond Ring was Purchased
When the economy heated up between 1994 and 1999 there was a strong demand for luxury items like diamonds. The economic surge that led up to the housing bubble from 2002 to 2006 also saw increased buying activity. As we all know, higher demand creates higher prices. If you purchased your diamond ring during the years of an unusually booming economy, chances are you will have paid a premium price and may see a steeper loss.
If the Diamond Ring was Financed
If you purchased your diamond with a credit card or financed it through the jewelry store where you purchased it, and you paid interest, your net cost will have increased. At the time you decide to sell your diamond the total loss will be higher, since those interest dollars won't be recovered. Many jewelry stores offer interest free financing but with steep penalties if the buyer gets behind on a payment.
Call For a Cash Quote
Text for Cash Quote
Who do you sell the diamonds to?
Our network of clients are primarily independent jewelry stores throughout the country. We are a diamond supplier to many high-end independent jewelry stores in America who rely on us for quality, service, and support.
What about online companies that offer to auction my diamond to hundreds of buyers?
It sounds great in theory. However, if those "buyers" are diamond industry buyers (i.e. buyers who are selling to jewelry stores) and the auction is taking a 30% margin for connecting you to an industry buyer, why not just sell it directly to an industry buyer yourself and cut out the middle-man?
Our Los Angeles diamond buyers make premium cash offers for diamond engagement rings from all leading bridal jewelry brands, including Philip Press, Cartier, Tiffany & Co., Tacori, Cathy Waterman, Simon G., Scott Kay, Michael Beaudry, Christopher Design, Ritani, Verragio, Jack Kelege, A. Jaffe, Jeff Cooper, and Kwiat.
Would you like further information about Los Angeles Jewelry Buyer? Please click on the following link to learn more reasons why we are: The Best Place to Sell a Diamond Ring in Los Angeles. Our diamond buyers and estate jewelers look forward to getting you the best possible price for your diamond ring today.
A Brief City Profile of Los Angeles, California
From its temperate Mediterranean climate and miles of beaches to its affiliation with the motion picture industry, Los Angeles has a laid back beach feel with a cutting edge vibe that embodies all that Southern California has to offer. Known both as the "City of Angels" and simply "L.A.," Los Angeles has attracted people from all over the world since the Spanish officially claimed the area in 1542.
Today, Los Angeles is the second most populous city in the US, and boasts a diverse population, with large Hispanic and Asian populations. Though the Los Angeles economy relies on international trade, aerospace and finance industries, it is the entertainment industry that dominates the city. Home to Paramount Pictures and 20th Century Fox, L.A. is also known for music recording, television, and is sometimes called the "Creative Capital of the World," with more performing artists calling L.A. home than any other city in the US.