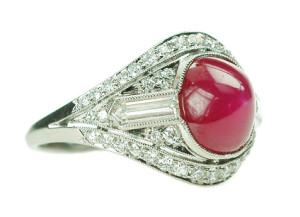 Los Angeles Jewelry Buyer is where to sell Raymond C. Yard jewelry for cash. We regularly purchase Raymond Yard rings, bracelets, brooches, and necklaces from clients throughout Los Angeles County. Customers sell us their antique & vintage Raymond Yard jewelry for two important reasons:
1) Our Raymond C. Yard appraisal and sales process is fast, secure, and risk free. 2) Every customer in Los Angeles is guaranteed a generous and immediate cash offer based on the worldwide market value of their Raymond Yard fine jewelry.
Our Los Angeles estate jewelry buyers have 50+ years of combined industry expertise in the diamond and estate jewelry trade, especially with high-brand jewelry from luxury makers like Raymond Yard, Tiffany & Co., Harry Winston, David Webb, Seaman Schepps, and Fabergé. Our Los Angeles estate jewelers leverage that experience to get you the maximum cash return for your used Raymond Yard jewelry or watch.
Discover Why Our Los Angeles Jewelry Buyers are …

Where to Sell a Raymond Yard Brooch or Earrings in Los Angeles
How to Get a Free Raymond Yard Jewelry Appraisal in Los Angeles, CA
The Best Place to Sell a Raymond Yard Diamond Ring in Los Angeles
Where to Sell Antique & Vintage Raymond Yard Jewelry in Los Angeles, CA
How to Get Cash for Raymond Yard Gemstone Necklaces in Los Angeles County
& More …
Los Angeles Jewelry Buyer makes premium cash offers for all of your previously-owned jewelry from Raymond Yard Inc., including items set with rubies, sapphires, diamonds, or emeralds. Our owner Fletcher Blackburn is a diamond jewelry designer who is an expert in added brand valuation. Sell your Raymond Yard brooch, ring, bracelet, necklace, or pendant to the best Raymond Yard jewelry buyer in Los Angeles, CA.
Arrange a Free Raymond Yard Jewelry Appraisal in Los Angeles
Sell Raymond Yard jewelry directly to Los Angeles Jewelry Buyer and get paid the amount you deserve. Contact us now to schedule a confidential appraisal of your items. Our free Raymond Yard jewelry appraisals involve no risk or obligations.
Find out why so many satisfied clients throughout the country rank Fletcher Blackburn and Los Angeles Jewelry Buyer as the best place to sell Raymond Yard jewelry for the most money.
To learn why we are better than trying to sell your Raymond Yard jewelry via a traditional auction or online auction, please go to: Should I Auction My Raymond Yard Jewelry?

In addition to being the best place to sell Raymond Yard jewelry for a generous cash amount, we are also the best way to sell antique Lalique jewelry in Los Angeles.