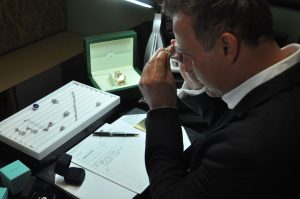 Los Angeles Jewelry Buyer is the LA service division of Diamond Estate Jewelry Buyers. We are owned and operated by Carl Blackburn, an internationally-recognized designer of diamond jewelry and a public advocate for fair and secure estate jewelry sales. Carl is among America's most recognized estate buyers of diamond jewelry and luxury watches with appraisal values up to $250,000 (and beyond).
Blackburn and his professional jewelry buyers operate on a foundation of integrity, trust, and larger cash payments for estate jewelry, high-brand watches, and diamonds.
If you are ready to sell diamond jewelry or a valuable timepiece, contact Los Angeles Jewelry Buyer to receive superior cash payments and exceptional service. Our jewelry and watch buyers make maximum cash payments on everything from Harry Winston diamond rings and Tiffany & Co. necklaces to limited edition watches from Rolex, Breguet, DeWitt, and Patek Philippe. Please contact Los Angeles Jewelry Buyer today to schedule a free verbal jewelry appraisal and substantial cash offer.
Local customers can schedule their free consultation and appraisal at our buying office, which is conveniently located right off the 405 freeway on Artesia Boulevard in Redondo Beach. We also make house calls and confidential workplace visits to clients throughout Los Angeles County and Orange County.
Out-of-town clients can call us toll free to receive a free preliminary appraisal over the phone and discuss other arrangements to sell your item securely and quickly.
Discover why we are the best place in Los Angeles to sell jewelry and diamonds.
What Our Customers Are Saying
To say the experience of dealing with this business was beyond all expectations would be an understatement. I had done my research and had an idea what my items were worth, but to my surprise, I received in cash almost the exact amount! I was delighted and thankful at the outcome. I would return in a heartbeat. Thank you again! – Richard Careb
Start Selling