Los Angeles estate auctions and estate sales are both common and viable ways to liquidate an estate. Perhaps a loved one has died and the house in Los Angeles needs to be emptied and sold, or maybe an aging baby boomer is simply downsizing into retirement. Whatever the reason for the sale, the person responsible for the liquidation has a choice to make: How do I get rid of all this stuff?
The Los Angeles estate liquidation industry offers two solutions: the California estate sale, often called a 'tag' sale, and the LA estate auction. While both alternatives have the goal of selling the entirety of an estate, the methods differ significantly. Deciding between the two can be complicated, and depend on the particular circumstance of the seller. In the following article, we'll explain the differences, as well as the pros and cons of Los Angeles estate sales and estate auctions.
What is a Los Angeles Estate Sale?
A Los Angeles estate sale is a way to liquidate the possessions of an estate through a simple retail sale. All the items for sale are tagged with a price, and attendees can shop, usually in the home, very much like in a LA retail environment. While this might sound like a glorified yard sale, it is actually much more. Los Angeles estate sales require a tremendous amount of work, including pricing items, advertising, organizing, and even crowd control and parking logistics. After just a little research, most people who choose to hold an LA estate sale will do so by hiring a professional.
What is a Los Angeles Estate Auction?
A Los Angeles estate auction is simply a way of liquidating the possessions of an estate by competitive bid. An auctioneer oversees the bidding, and each item offered at auction is sold to the highest bidder. Los Angeles estate auctions can be held at the home or at an auction house, and are always conducted by licensed auctioneers.
Why Los Angeles Estate Sales Work Better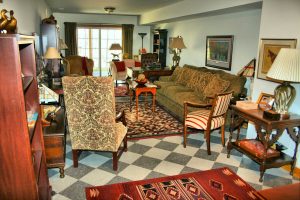 Los Angeles estate sales generally take place in the home of the person whose possessions are being sold. This allows the public to see items in their 'natural' environment—it's much easier to visualize what a piece of furniture or artwork will look like in one's home when it is seen in a home rather than on an auction block. And because everything for sale is still in the home, there are no moving charges or other associated logistics of transporting belongings to a Los Angeles auction house. Also, there are no fees for photographing merchandise for an auction catalogue.
All the items for sale in a Los Angeles estate sale are clearly marked, and the public can browse and shop in a way most are familiar with—much like shopping in an LA retail store. Some people are simply not comfortable with the idea of bidding on an item at an auction, and prefer the familiarity of a set price on an item. Los Angeles estate sales tend to attract homeowners looking for items for their own homes, and as such, these types of buyers are likely to pay more than an antique dealer bidding at an LA auction.
Another advantage of a Los Angeles estate sale is that they usually take place over two to three days. Not only does this allow shoppers the luxury of lingering over a particular item if they choose to, but it has the advantage of a kind of natural crowd control—the ultimate number of attendees is spread out over a weekend. And shoppers don't need to wait around for an item to come up for bidding. At Los Angeles estate sales, buyers simply take an item they want to the check-out area and pay as they leave.
California estate sale professionals set the prices on individual items, and as each piece is sold separately, greater incomes can be realized. At auctions, smaller, less desirable items are often grouped together in 'box lots' and sold, often limiting the potential income.
Why Los Angeles Estate Auctions Work Better
The biggest advantage of a Los Angeles estate auction is simple: auctioned items are sold to the highest bidder, realizing the greatest selling price for that given day. At an LA estate sale, the selling price will never exceed the fixed tag price, but at an auction, selling prices can only go up. There is often palpable excitement as bidding increases at a California auction, and some highly valued items can sell for way beyond what a tag sale might have realized.
Los Angeles estate auctions also offer the advantage of allowing buyers to preview and closely inspect items before any bids are placed on them. At an California estate sale, you may not have time to thoroughly examine an item, especially if you're not one of the first people in line when the sale starts. Auctions allow not only for a preview of goods, but they afford everyone an equal opportunity to bid on items, not just the folks who chose to wait in line at 5 am to be the first admitted. Also, if you are unable to attend an auction, you can often place an absentee bid. A member of the auctioneer's staff will place bids for you, up to but not over an amount you specify.
Los Angeles estate auctioneers are certified professionals, generally licensed by state regulatory bodies, but there is no regulatory body overseeing estate sales. If you hire someone to run an estate sale, you'd better do your homework. California estate sales assume that the vendor setting the price knows exactly what everything is worth, and unscrupulous vendors are sometimes tempted by a conflict of interest. Prices can be set deliberately high so that an item doesn't sell, and at the end of the LA estate sale, the provider will 'buy out' the clients left over pieces at greatly reduces prices, realizing large profits.
Sell a Los Angeles Estate: A Two-Pronged Approach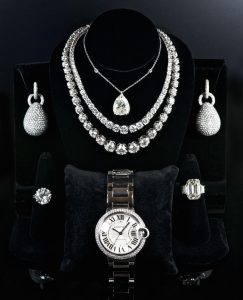 A growing consensus among some professionals is that for many Los Angeles estates, a two-pronged approach to liquidation is the best. For many higher value items, like artwork or antique collectables, an LA auction is clearly the better choice, and competitive bidding will realize the greatest profits. For everyday household items like furniture and appliances, a Los Angeles estate sale is likely to be the better option.
If your California estate contains valuable antiques as well as everyday items, try to find a Los Angeles estate liquidator who can separate your property according to its value and combine the services of a California auction house with a well coordinated LA estate sale to maximize your profits.
Lastly, if you have valuable diamond jewelry, antique jewelry, or luxury timepieces, it is best to contact an estate expert like Los Angeles Jewelry Buyer, who deals exclusively in these items and can often pay you higher prices than you would have achieved through either an estate sale or an estate auction. To receive a free appraisal of your fine jewelry and precious metal gift assets, contact us today toll free or by email.
For more detailed information about holding a Los Angeles estate sale, please see our article: How Los Angeles Estate Sales Work.
Start Selling