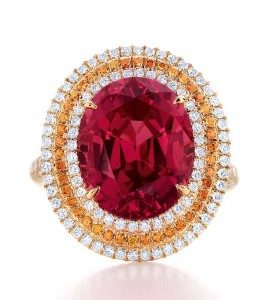 Los Angeles Jewelry Buyer specializes in purchasing your valuable red spinel gemstones & jewelry, including large carat red spinel rings and necklaces. If you have been wondering how to sell a red spinel diamond ring or jewelry for cash, our Los Angeles jewelry buyers can help.
In this article, we will answer some of the common questions that our Los Angeles clients have asked when selling us their red spinel jewelry for a generous and immediate cash offer.
1) What kind of gemstone is red spinel?
Prior to the late 19th century, red spinels were often confused with rubies, while making their way into crown jewels and other historically important jewelry. However, red spinel actually belongs to a separate family of gemstones. Rubies are part of the corundum family of minerals, while red spinel (as the name suggests) is part of the spinel group of minerals. Additionally, rubies are much more valuable than equivalent red spinels.
Spinels come in a variety of colors, including cobalt-blue, lilac, purple, and orange. However, red spinels are the most valuable gemstone of the spinel family. Spinel gemstones classified as "red spinels" have a color which ranges from a fiery orange-red to purplish-red to pure red.
2) What aspects of my red spinel jewelry will increase the cash offer?
There a variety of factors that can impact the cash offer of red spinel rings, pendants, and other red spinel jewelry. The important thing to remember is that the value of your red spinel jewelry is based primarily on the color, cut, carat size, and clarity of the red spinel.
The most important aspect is your red spinel's color—the most sought after being those gemstones which have pure red to slightly purplish red hues of medium to medium-dark tone. Your red spinel should also have no inclusions visible to the naked eye in order to receive a good cash offer.
Lastly, you can expect a higher price if you are selling red spinel gold jewelry manufactured by a designer jewelry brand like Tiffany & Co. or Chopard—otherwise the red spinel will likely be extracted and the rest of the jewelry melted down and sold at scrap prices.
3) Why is my cash offer so much less than my red spinel jewelry's retail price?
When people sell red spinel jewelry in Los Angeles, they are sometimes surprised when they don't receive a cash offer closer to the retail price of their red spinel necklace, earrings, or ring. When selling red spinel gemstones & jewelry, it is important to remember that the retail price of your item was likely at least triple the manufacturing cost. This usually holds true even if you bought your red spinel jewelry online or at advertised at "wholesale" prices in Los Angeles, CA.
4) Will I get a cash offer close to the appraisal value of my red spinel jewelry?
In most cases, the answer is no. If your red spinel jewelry came with a "replacement" appraisal or was appraised for insurance purposes, the appraisal value is the retail value of your red spinel jewelry. And, as we mentioned previously, the retail value of an red spinel pendant, ring, or necklace is usually 3 times more than the manufacturing cost.
However, if prior to selling your red spinel jewelry, you take the item to a Los Angeles jewelry appraiser and ask for a re-sell price estimate, you usually will be able to receive a cash offer that is closer to that price, depending on the accuracy of the red spinel appraisal.
5) Can I sell my red spinel jewelry for a good price if it isn't accompanied by a lab report?
You can sell large carat red spinel jewelry to our Los Angeles jewelry buyers, regardless of whether or not your ring is accompanied by a lab report. However, if you do have a lab report for your red spinel jewelry from a respected gems lab (such as GIA) do let us know because this will help us to evaluate the red spinel's correct value.
6) What about trying to sell my red spinel jewelry on eBay?
While some people in Los Angeles have success selling red spinel fine jewelry & gemstones on eBay, many more are not so fortunate.
The reason so many people find it hard to sell red spinel jewelry on eBay is that the world market is full of synthetic red spinels and low quality red spinels. Potential buyers are therefore legitimately worried about buying fake or low quality red spinel jewelry online.
Sellers in Los Angeles who are successful at selling a red spinel engagement ring or necklace on eBay are usually private individuals who have a long track record of successful sales and high ratings, or professional LA jewelers with a bricks and mortar store.
Arrange a Free Red Spinel Jewelry Appraisal in Los Angeles
Contact our Los Angeles jewelry buyers today to arrange a free verbal appraisal of your red spinel ring, necklace, or brooch. You can also get the process started online by telling us about the red spinel jewelry or gemstones you wish to sell in the contact form below.
Los Angeles Jewelry Buyer purchases fine red spinels from all origins, including Myanmar/Burmese red spinels and Sri Lanka/Ceylon red spinels. We also purchase rare star spinel gemstones and star spinel rings.


Contact us today to discover why we are the best way to sell precious gemstones and sell a diamond ring in Los Angeles.
The Best Place to Sell a Red Spinel Ring in Los Angeles County