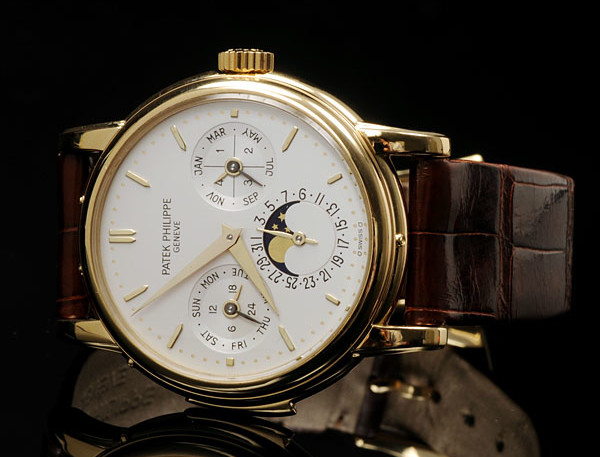 Are you looking to sell a Patek Philippe watch? Living in Los Angeles County, you have a variety of options, including watch dealers, fine jewelry stores, consignment shops, and auction houses. With all these options to consider, it can sometimes be hard to decide where you can sell a Patek Philippe for the highest cash price.
Los Angeles Jewelry Buyer is here to help make that decision easier. We have decades of expertise in buying and selling used Patek Philippe watches, including highly collectible models valued into the six figures. We will gladly share our expertise with you, so that you can sell your Patek Philippe quickly and confidently for the best cash price.
We provide free consultations and valuations with no pressure to sell your timepiece to us. We are able to provide this free service, because we are confident that when you compare our cash offer to any other watch buyer in Los Angeles County, you'll discover that we are, indeed, the best place to sell a Patek Phillipe in Los Angeles.
View a Fiew of Our Recent Buys – Pre-Owned Patek Philippe
Why are we able to pay you more for your watch? Because 1) we don't operate an expensive retail storefront with a large sales staff; and 2) we have an unrivalled international resale network for timepieces from luxury watchmakers, such as Patek Philippe, Rolex, Audemars Piguet, and Vacheron Constantin.
Are you ready to learn how much your Patek Philippe watch is worth? Contact us now with some details about your Patek Philippe, including whether you have any of the original sales material. We will get back to you within 24 hours on weekdays with our initial cash offer.
Then, if you would like receive a final appraisal and cash offer, we can arrange an in-person evaluation at our main office in Redondo Beach, or at any of our executive offices located throughout Los Angeles County — usually within 20 minutes of your home or workplace.
Sell a Patek Philippe
For clients who wish to sell a Patek Philippe at our main estate buying office, we are conveniently located right off the 405 freeway on Artesia Boulevard in Redondo Beach, CA. The office is open by appointment only, so please contact us first to receive a preliminary consultation and make and appointment.
On acceptance of our final cash offer, you will receive payment immediately, either by cashier's check or business check.
What Kind of Patek Philippe Watches Do We Buy?
Los Angeles Jewelry Buyer purchases most models of Patek Philippe, including vintage and antique Patek Philippe timepieces. The current availability of your particular model, along with market demand, will impact its resale price. A few models that we are currently paying top dollar for are:
Sell a Patek Philippe Nautilus
Introduced in 1976, the Patek Philippe Nautilus has been one of the watchmaker's most sought-after watches throughout its 40+ year history. Launched 4 years after Audemars Piguet's Royal Oak (in 1972), the Nautilus sought to establish itself as the pre-eminent luxury sports watch made of steel. Its distinctive, large octagon shape has made the timepiece both immediately recognizable and uniquely fashionable.
Sell a Patek Philippe Aquanaut
Patek Philippe launched the Aquanaut in 1997, twenty-one years after its close relative the Nautilus was introduced. The popularity of the Aquanaut skyrocketed after its introduction and has remained in high-demand ever since, in no small part due to the fact that the Nautilus is often much harder to obtain. The Jumbo Aquanaut Ref 5065A is especially sought-after, as it was the 1st Patek Philippe watch to feature a leather strap. As a sports watch, the Aquanaut combines sportiness with casual elegance that other watchmakers have copied but never duplicated.
Sell a Patek Philippe Grand Complications
A Patek Philippe watch labeled "Grand Complications" signifies a model with many highly complex functions, such the tourbillon, minute repeater, perpetual calendar (this takes account of monthly variations, including leap years), moon phases, retrograde date, petite and grande sonnerie striking mechanisms, and split-second chronograph. The grandest of Patek Philippe's grand complications is the Grandmaster Chime Ref 6300G, which houses 20 complications and a stunning 1,366 parts.
Find out how much your Patek Philippe is worth now.