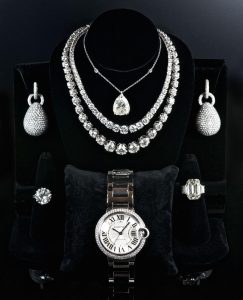 Los Angeles Jewelry Buyer is one of the most recognized luxury estate buyers in the country. We specialize in helping clients nationwide liquidate their fine jewelry, luxury watches, sterling silverware, and gold before they hold a Los Angeles estate sale.
The reason clients sell these items to us prior an estate sale is that we appraise these items entirely free of charge, while also making immediate cash offers that often are much higher than what would have been received from a public estate sale in Los Angeles County.
After selling your precious gift assets to Los Angeles Jewelry Buyer, then it is time to start thinking about holding an estate sale for the other items. So in this article, we will cover the steps involved and explain how Los Angeles estate sales work.
What is a Los Angeles Estate Sale?
A Los Angeles estate sale is a way of quickly liquidating the physical belongings of a family or estate. Usually run by professionals, estate sales are generally the result of one of the "Four Ds": downsizing, debt, divorce, and death. With more than 10,000 baby boomers reaching age 65 every day, the liquidation business is thriving as aging boomers downsize in later life.
More than just a glorified garage sale, Los Angeles estate sales are designed to rid a home of all unwanted items, from furniture, artwork, and collectables to tools, clothing, and household goods. The public is invited into the home and may purchase any item that is priced for sale, usually on a first come, first served basis. After the sale, a home is generally left "broom clean," meaning it is ready to be rented or sold.
Who Runs Los Angeles Estate Sales?
Although many Los Angeles estate sales are run by professional estate liquidators, there is no strict accreditation program or national regulatory body that oversees the process, so literally anyone can call him or herself a Los Angeles estate liquidator. While this can lead to the possibility of abuse and conflict of interest, the American Society of Estate Liquidators does offer training, education, and a comprehensive code of conduct.
When choosing a Los Angeles estate liquidator, due diligence is necessary on the part of the client. Contracts are a must, and all the fine print should be considered carefully. Checking with the Better Business Bureau of Los Angeles is always a good idea.
Signing the Los Angeles Estate Sale Contract

Once a Los Angeles estate liquidation company has been chosen, the next step is a comprehensive interview, where the liquidator will meet with the client and see what is to be sold. One important piece of advice from liquidators is simple: Do NOT throw anything away! There are many heartbreaking LA stories about truly valuable items being tossed or given away. That 'pile of junk' might be worth big money, so don't throw anything out until you've had an expert look at it.
If the home is found to have enough content to make a Los Angeles estate sale a reasonable choice, a contract is drawn up, which includes all the particulars about commission fees and services provided. Most estate liquidators charge an average commission of 35% of total sales, and that fee may or may not include the removal of unsold items and cleaning.
While this fee may seem high, consider the service provided, and the time constraints involved. Often clients need to liquidate an estate quickly in order to sell the house, and they may not even live in the area. Professionally run Los Angeles estate sales are usually well advertised and attended, and can be well worth the money in the long run.
Sellers will need to provide legal documents proving their ownership of the items for sale, as well as proof of homeowner's insurance. Likewise, the Los Angeles estate liquidator should carry insurance like any professional who works in a home, including workman's compensation insurance in case an employee gets hurt.
Before the liquidator's team begins the process of sorting and pricing the assets, the clients need to make sure they sort through the estate and remove any items they don't want sold. Any items that will not be offered for sale need to be clearly indicated so that the liquidator does not advertise the sale incorrectly. Many Los Angeles companies charge a commission once they start work, so if a family removes an item from the sale after the contract is signed, they may be responsible for paying the commission.
Building the Los Angeles Estate Sale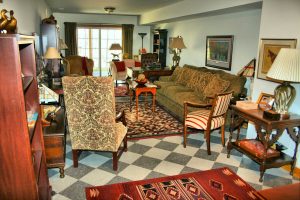 Los Angeles estate sales are usually held on weekends, and are generally two day events, though some include a pre-sale on Friday night for family, neighbors, friends, and anyone else invited by the client. Some liquidation companies will prepare a sale in as little as a week, while others may take months, depending on the size of the estate and the particular needs of the owners.
Once the contract is signed, the Los Angeles estate liquidator begins the process of sorting, photographing, researching, and pricing all the items in the estate. If truly rare and valuable items are found, a professional appraiser may be consulted in order to set a reasonable price. Items are sorted and grouped together, and small collectables (such as porcelain figurines) are often displayed in locked cases for security. Los Angeles estate sales can draw significant crowds, so all the belongings in the home are arranged in a way to allow for a reasonable flow of people traffic.
In order to have a successful estate sale, the right kind of buyers have to be made aware of the kinds of things for sale, and a good estate liquidator will advertise accordingly with a well written advertisements and photos. Many liquidators have a regular list of clients who attend their sales, and they are notified through direct mailings or emails. Local Los Angeles County newspapers, both physical and online, are a good way for liquidators to contact potential buyers, and social media like Facebook and LinkedIn are useful as well.
The Day of the Los Angeles Estate Sale
Directional signs and parking information are posted the night before the sale, and it is not uncommon to have people lining up hours before the beginning of the event. Once the Los Angeles estate sale begins, the people in line are admitted on a first come, first served basis, though some companies use a number system, where the people in line are issued a number, and are admitted in order once the sale begins. Depending on the size of the home and crowd, only a certain number of people may be admitted at a time.
Customers walk through the Los Angeles County home, and usually pick up and carry the items they are going to buy until they are ready to check out. If an item is too large to be carried, it may be "marked sold," indicating that the piece is spoken for, and the buyer is committed to paying for it. Unscrupulous buyers might mark items as sold as they walk through a sale, only to change their minds once they've seen the entire lot. This breach of Los Angeles estate sale etiquette is unfair to both the seller and other shoppers, and some companies only allow their workers to mark a piece as sold.
Estate sales professionals should provide enough staff to manage the sale properly, and often an LA police officer is hired to provide extra security. Large backpacks, handbags, and strollers are usually prohibited to discourage shoplifting.
A check-out table is usually located near the exit, and customers are expected to pay by cash or credit card as few companies accept personal checks. Also, buyers will have to cover any applicable sales tax, and provide transportation of large items.
After the Los Angeles Estate Sale
After the Los Angeles estate sale, financial disbursements are made according to the signed contract, and any remaining items disposed of, usually by a donation to a charity. Depending on the stipulations in the contract, the home is left ready to show for sale or rent, though professional cleaning services are usually an extra cost.
If you are planning to hold an estate sale, please contact Los Angeles Jewelry Buyer today for an free appraisal of your estate jewelry and immediate best cash offer.
Start Selling