If you are looking to sell a sapphire ring in Los Angeles, the first question on your mind is likely, "How much is my sapphire worth?" There are various factors which impact the value of a sapphire, and we will cover each one in this article on appraising the value of a sapphire gemstone.
Sapphires are a gem variety of the element corundum, and while commonly thought of as blue, they actually occur in almost all the colors of the rainbow, with one notable exception—red. Any corundum with a majority red hue is a valued as a ruby. As with most gemstones, a number of factors can affect a sapphire's value, and the criteria for judging them is similar to the way diamonds are judged: the classic "4 Cs" of color, clarity, cut, and carat weight. Though all of these factors have an impact of the ultimate value of the sapphire, color is the most important characteristic, and the most problematic as well.
Learn How Sapphire Gem Color Affects Value
Although the traditional color for sapphires is blue, they naturally occur in a wide variety of colors, and each has its own variations in quality. Generally speaking, the more intense and consistent the color is throughout the gemstone, the more valuable it will be, but because color in sapphires is so widely varied, there is no one "standard" against which color is judged. Determining ideal color in sapphires is generally left to the eye of the beholder.
Color in all gemstones is usually talked about in three terms: hue, saturation, and tone. Hue refers to the stone's basic color, and saturation is the extent to which the hue is tempered by brown or gray. Highly saturated colors reflect a very narrow set of wavelengths, whereas low saturations are sometimes called weak, brownish, or grayish. Tone refers to the depth of color in the stone, ranging from very light to very dark. The most valuable gemstones are those that exhibit the most pure colors. Among blue sapphires, the most coveted stones are violet-blue, with medium to medium dark tones and vivid color saturation.
Sapphires other than blue are considered "fancy colored," and include pink, orange, purple, yellow, green, black, as well as colorless, and Padparadscha. Each category of color has its own range and market value. As with all colored gemstones, strong to vivid color saturation is considered more valuable than weak saturations, as long as it doesn't darken the color and compromise brightness. While blue sapphires are consistently more expensive than fancy colored ones, the Padparadscha color from Sri Lanka, often described as pink-orange or salmon, is extremely rare and valuable as well.
Learn How Sapphire Gem Clarity Affects Value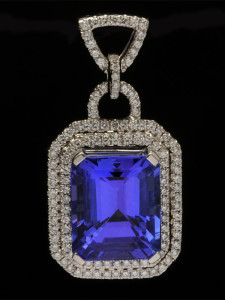 Blue sapphires almost always exhibit some kind of inclusions, though they are not quite so heavily included as their red cousins, rubies. Fine inclusions of the mineral rutile, called needles, are often present in sapphires, and when they occur in intersecting groups, they produce a kind of haze known as silk. While inclusions are quite common, blue sapphires of extremely high clarity do exist, and their rarity makes them extremely valuable.
Other inclusions in sapphires include differing mineral crystals, small fractures, color banding, and color zoning. Because most all sapphires have some kind of inclusions, treatments have evolved to enhance their clarity. The most common is heat treatment, which can improve the overall of clarity of the stone. This kind of simple treatment is considered permanent and stable, and is widely accepted in the industry when disclosed. The value of a heat treated sapphire is generally not adversely affected, though untreated stones of high clarity are always more valuable. Other treatments, like the filling of fractures with lead glass or epoxy resins are not widely accepted and will compromise the value of the sapphire.
Generally speaking, inclusions make sapphires less valuable, especially fractures that may threaten the stone's integrity, but some inclusions can actually increase the value of the gemstone. Asterism is a phenomenon responsible for the appearance of a star on the surface of some sapphires, the result of properly aligned rutile inclusions. These so-called "star sapphires" can occur with four, six, or twelve rays, and when the rays are of uniform strength and contrast strongly with the background color of the stone, they can be quite valuable.
Learn How Sapphire Gem Cut Affects Value
The shape of a sapphire in the rough will always affect the cut chosen for the stone, and because most rough sapphire crystal is found in a hexagonal pyramid, finished sapphires are often deep. As color is the most important factor in sapphires, cutters focus on factors that can affect color zoning, and the lightness or darkness of the gem. Star sapphires will always be cut as a cabochon to display the asterism.
Learn How Sapphire Carat Weight Affects Value
Sapphires range in size from quite small (a few points) to hundreds of carats, though most readily available sapphires weigh less than 5 carats. Higher quality stones increase in value with size more rapidly than lower quality ones.
A fine 5 carat sapphire might sell for five times more per carat than a similarly judged 1 carat stone, whereas a lower quality 5 carat stone might only be worth twice as much per carat as a 1 carat gem of the same quality.
Get a Free Sapphire Appraisal in Los Angeles, CA

Contact Los Angeles Jewelry Buyers today for a free verbal appraisal of your sapphire ring, necklace, brooch, earrings, or loose sapphire gemstone. You can also get the process started online by telling us about the sapphire jewelry you wish to sell in the contact form below.
Would you like more information about how to sell your sapphire jewelry? Click on the following link to learn more reasons why Los Angeles Jewelry Buyer is the best place to sell large carat rubies and: The Best Place to Sell Jewelry in Los Angeles.
Start Selling