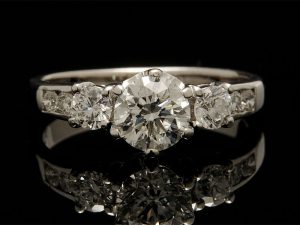 The time has come to ask the biggest question of your life. But now, when mulling over what likely will be the biggest jewelry purchase of your life, you're wondering how you can afford it.
No one wants to be cheap when buying a diamond engagement ring, but the reality is that buying an engagement ring in Los Angeles is a big financial decision, and should be considered carefully.
One option for buying an affordable engagement ring in Los Angeles is to purchase your ring from an estate buyer like Los Angeles Jewelry Buyer. We specialize in high-brand designer jewelry, including engagement rings from Harry Winston, Cartier, Kwiat, and Tiffany & Co. All of these engagement rings are offered at a fraction of their original retail price.
There are a number of other affordable engagement ring ideas to consider, so in this article, we'll cover the best ones and help you buy your engagement ring in Los Angeles without breaking the bank.
Buying an Affordable Engagement Ring in Los Angeles
Perhaps the first place to start is with your budget. "Affordable" in Los Angeles will mean very different things to people with different incomes and different financial situations. Setting a budget is a personal decision, but once you have set your budget, stick to it. Try to compare only engagement rings within your price range in Los Angeles.
Buying Solitaire Engagement Rings in Los Angeles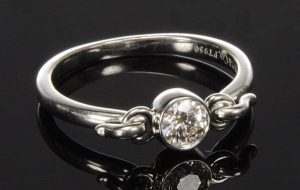 The diamond solitaire is the most popular and traditional engagement ring choice, but a single big diamond can easily break your budget in Los Angeles.
When looking for a previously-owned solitaire ring, the best bargains are always for complete, refurbished rings. However, when buying a brand new solitaire engagement ring Los Angeles, it is better to shop for the stone and the setting separately.
Before buying your lady's ring, you'll need to educate yourself a bit about diamonds, and plan to spend a few months researching and shopping around at various Los Angeles jewelry stores and online retailers.
First, find a setting you like, and then shop for the diamond. You can frequently get a better price buying them separately and having a local Los Angeles jeweler set the stone in the setting for you.
Consider the metal you'd like for the ring itself. Platinum is heavier and more durable than gold, but it is also more expensive. Fourteen carat gold engagement rings are more affordable in Los Angeles, and will endure constant wear well. If yellow gold isn't your fiancé's color, you can opt for white gold.
Note that white gold is made by mixing yellow gold with a white alloy, and then plating it with rhodium to make the ring white. The rhodium plating may wear off every six months, leaving the ring looking slightly yellow. One way to counter this is to get a white gold ring that has been made with a special alloy that ensures the metal stays white even after the plating wears off. However, this option is ordinarily available only when buying a brand new engagement ring in Los Angeles, as previously-owned ones are difficult to find.
If your budget is very tight, you also could consider purchasing a palladium setting for your engagement ring in Los Angeles. Palladium is a member of the rare Platinum Group Metals, but it is extremely light weight and a lot cheaper than platinum or gold.
The Four Cs: Choosing a Diamond in Los Angeles
Diamonds are graded using the famous "4Cs" criteria–color, cut, clarity, and carat weight, and with one important exception, each category has its own sweet spot for affordability in Los Angeles.
Color in diamonds is actually a lack of color–the perfect diamond would have no hue at all. Color grades range alphabetically from D (colorless) to Z (yellow). With the naked eye it is nearly impossible to tell the difference between a diamond rated G and one rated D, so any diamond in the G to J range is a good choice.
The cut of a diamond ultimately determines its brilliance, fire, and overall beauty, and is graded from Excellent to Very Good, Good, Fair, and finally, Poor. As you can probably guess, cut is the one "C" you really shouldn't compromise on when buying a diamond. Save money on the other categories and get the best cut you can afford in Los Angeles.
Clarity refers to imperfections in a diamond, but for affordability, the only imperfections that should concern you are the ones visible to the naked eye. For round brilliant diamonds, a clarity rating in the VS1-VS2 range, (Very Slight inclusions), is typically clean to the eye. Diamonds rated SI1 (Slight Inclusions) are sometimes clean to the eye, but the SI2 rating is very rarely clean to the eye, so SI1 is probably a good place to start.
The final "C," carat weight, is simply the weight of the diamond. Here the tip is to look for a stone that weighs slightly less than the next 1/2 carat weight. For example, a .49 carat diamond will cost noticeably less than a .50 carat diamond in Los Angeles, and substantial savings can be had by purchasing a .99 carat diamond versus a 1 carat diamond.
Buying Multi-Diamond Engagement Rings in Los Angeles
Smaller diamonds are less expensive than bigger diamonds–buying the same total carat weight in a single stone is almost always more expensive than buying many smaller stones. While not as traditional as the diamond solitaire, multi-stone engagement rings can be a great option in Los Angeles, especially for an active woman who doesn't want a big solitaire catching on everything she's near.
If you still want to highlight a single diamond, consider a halo setting. This setting features smaller stones surrounding a center stone, and will actually make the center stone seem bigger.
Alternatives to Diamonds for Engagement Rings in Los Angeles
While diamonds are the most common gemstones for engagement rings in Los Angeles, they are not the only option. Many LA couples are turning to colored stones like sapphires, rubies, and emeralds.
Often you can purchase a truly stunning colored stone for the same price as a much smaller diamond. And diamonds can still be part of the setting.
Many affordable engagement rings in Los Angeles feature a large colored stone surrounded by smaller diamonds. Some brides-to-be might even prefer to have their birthstone in their engagement ring.
Shopping Vintage for an Engagement Ring in Los Angeles
If you have access to a family ring, you may be able to have the diamond placed in a new setting, or even have a new diamond or other gemstone placed in a vintage setting. Resetting an heirloom piece is a very personal decision, and sometimes purely sentimental attachment dictates whether you can modify the ring at all.
You also might consider shopping for a vintage engagement ring at a Los Angeles estate sale or antique mall. However, you'll need to have a basic education, and try to find reputable dealers who will back their pieces up with authenticity guarantees and a return policy.
Buying an engagement ring at a Los Angeles pawn shop can be a good option for purchasing less expensive diamond rings under $1000, but for diamond rings higher than that, you should look for LA pawn shops that have the words "Jewelry & Loan" in their titles, as they tend to be more knowledgeable in jewelry than Los Angeles pawn shops that deal in TVs, bicycles, tools, etc.
If you do start exploring places like LA pawn shops, antique malls, and estate sales (or online sites like eBay and Craigslist), be sure to take stock of the person you are dealing with and their credentials.
Think of it like buying a used car. Unless you're a mechanic or a used car dealer, you would not want to buy a used car off of Craigslist without having it looked at first. It's no different when buying a diamond engagement ring in Los Angeles. You will want to be dealing with a professional jeweler (preferably a GIA graduate) to verify that the diamond is okay, and ring is worth what the seller is asking for it.
At Los Angeles Jewelry Buyer, we are professional estate jewelers who help our clients buy and sell engagement rings every day. We deal in previously-owned engagement rings from the world's finest bridal jewelry brands. Contact us to discover what diamond engagement rings we have available today.
Start Selling