In the world of luxury timepieces, Rolex is in a league by itself. While some will argue that nothing says 'newly minted millionaire' like Rolex, there is no denying the instant communication of wealth, style, and taste that is conveyed when you put a Rolex on your wrist.
If you are considering buying your first Rolex in Los Angeles, chances are you are new to the world of luxury timepieces. For some, a Rolex will be the last watch they buy, and for others, the first Rolex is like a gateway drug into the world of collecting luxury watches. While there are undoubtedly more complicated, more expensive, and even more ornately designed watches, Rolex can claim a spot on almost every list of 'must have' luxury watches.
Buying your first Rolex is a big decision, and not one to be taken lightly. Even the least expensive Rolex represents a significant investment, and the first time buyer should be well aware of all the possible options.
When to Buy a First Rolex in Los Angeles, CA

Obviously, you'll need to be able to afford one, but that said, when is the right time to take the leap? Some choose to link the purchase of their first Rolex to a milestone in life, like a graduation or promotion, while others might use an inheritance for their purchase as a way celebrating the life of a loved one. Still others simply want to own a timepiece that will hold value and communicate a level of career success. Ultimately the timing is up to you, but buying your first Rolex is a special occasion.
Should I Buy a Vintage Rolex in Los Angeles?
The world of vintage Rolex watches presents a set of challenges that may be daunting for the first time buyer, from the intricate complexities and small differences between models to the possibility of fakes. Los Angeles collectors can obsess over the smallest differences in lettering or dial colors, and a first time buyer will likely be amazed that one small detail can mean the difference between a $3,000 dollar watch and a $30,000 dollar one.
Aside from the possibility of getting your first Rolex at a (relatively) low price, there are other benefits to buying vintage. First, there is an aura of adventure that accompanies a Rolex sports watch from the 1960s or '70s. Whether you opt for the Submariner made popular by Sean Connery's James Bond or a Paul Newman Daytona, there are really no two ways about it: these watches are cool. And there are plenty of them around.
If you're willing to do some research, you can probably find the exact configuration of vintage Rolex that suits your personal taste. You might find that you're drawn to a watch with a particular history, like the GMT 1675, built specifically for Pan Am pilots. Pursuing a vintage Rolex presents you with an opportunity to wear something that you won't see on everyone else's wrist.
Like anything valuable, Rolex watches are subject to imitation, and you should be well aware of the possibility that the vintage Rolex you're considering might be a fake. The best advice is to do your research, both on the watch and the seller, and consider dealing only with a reputable Los Angeles Rolex dealer who will back up your purchase with a guarantee.
Should I Buy a New Rolex in Los Angeles?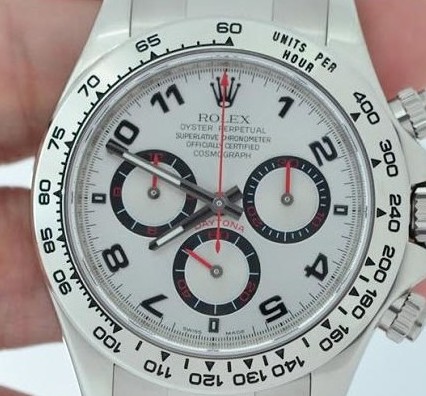 Buying a new Rolex to celebrate a big promotion might be a great way to commemorate that milestone in your professional life, but buying a used Rolex can offer substantial savings. All Rolex watches retain their value to a degree, but you should be aware that your shiny new Rolex WILL depreciate when you leave the store–just as fast as a new sports car does when you drive off the lot. That said, a new Rolex will retain its value better than any other luxury watch in its class, and the new ones are built like tanks, rugged and precise.
Another benefit of buying a new Rolex is that in the last few years, Rolex has introduced more changes and innovations than they did in the previous few decades. Bracelets now have new clasps with simple micro-adjustments, bezels are ceramic and virtually scratch proof, and the movements now feature the Parachrom hairspring–unaffected by magnetic fields and ten times more resistant to shock than other hairsprings.
Finally, Rolex has 'modernized' their case sizes, increasing them to accommodate contemporary tastes. And even though the new Sea-Dweller and GMT-Master II are still 40mm in diameter, they actually appear bigger because of the dimension of their lugs.
If the price of a new Rolex is giving you second thoughts, there is a way to buy a modern Rolex for less money. Keep in mind that Rolex doesn't come out with new models every year. In some cases the model does not change for many years (you will have to research how many years, since some models change more frequently than others with new features).
You can therefore often buy a "current model" used Rolex in mint condition, with box, papers, and in many cases still under Rolex warranty, for thousands of dollars less than buying brand new. For example, at Los Angeles Jewelry Buyer we just sold a Rolex GMT II watch to one of our clients that was exactly 2 years old but looked identical to a never-worn one in a jewelry store and cost around $2000 less.
So, how do you decide whether to buy a brand new Rolex or one that is like-new? The two main factors probably are this: 1) Gifting — if you are buying your spouse a new Rolex, you will probably want to present them with a brand new watch in most cases; 2) Self-purchase — if you are a working professional and want to reward yourself with a Rolex, spending thousands extra just for having the plastic wrapper still on the watch and it never being worn is probably a waste of your hard earned cash.
Choosing a Rolex Model in Los Angeles

Once you've decided to buy your first Rolex, the next step is to figure out which one is right for you. Rolex is famous for many models, and while all are high quality, well built, and reliable, there are differences in style. How will you wear the watch? If you're a suit-and-tie-every-day kind of businessman, you will probably choose a different model than a globetrotting wilderness photographer. A careful consideration of your particular needs should inform your choice. Generally speaking, Rolex watches fall into two categories: sport watches and dress watches.
Buying a Rolex Dress Watch
While just about any Rolex could be considered a dress watch, there are specifically dressier models, most suited to the suit-and-tie-every-day crowd. Probably the most iconic is the Rolex Datejust. Originally offered in 1945, the Datejust was the first self-winding waterproof wristwatch to display the date at the three o'clock position. With its distinctive Cyclops lens over the date and its famous fluted bezel, the Datejust epitomizes style and elegance, and remains one of the most recognizable watches in the world.
Another great choice for a first Rolex dress watch is the Day-Date. Also known as the Rolex 'President' (only difference is the bracelet), this model was the first to show the day written in full, in addition to the date. Offered only in 950 platinum or 18 carat gold, the Day-Date carries a heftier price tag, especially on gem set versions, and embodies prestige and exclusivity.
Buying a Rolex Sport Watch
Rolex sport watches are by far the most popular, and they are versatile–their style works well with everything from a t-shirt to a tuxedo. The most iconic model is the Submariner, available in many different combinations of materials, from steel and basic black to gold with diamonds. Designed for professional scuba divers, the Submariner is a rugged and reliable timepiece suitable for everyday wear.
The Rolex Daytona chronograph is a dressier sport watch, designed for the demands of professional race car driving. Made popular by Paul Newman, the Daytona features a tachometric scale for measuring speed and precise timing to one eighth of a second.
Other watches in the Rolex sport watch family include the Sea-Dweller Deepsea, a dive watch slightly larger than the Submariner, and the Yachtmaster, a dressier sportwatch designed specifically for yacht racing. The Rolex Explorer and Explorer II models trace their history to Himalayan expeditions in the 1930s, and are (relatively) less expensive sport watches, making them a good choice for the first time Rolex buyer.
There are many other Rolex models, and the combinations of different metals and gems make the possibilities almost endless. Whatever your choice for you first Rolex, you're unlikely to make a bad decision.
If you have already purchased your first Rolex watch, and are considering an upgrade, contact Los Angeles Jewelry Buyer today for a free Rolex appraisal and immediate cash offer. To learn more, please see our article: How to Sell a Rolex Watch in Los Angeles.
Start Selling